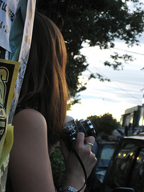 I'm a librarian and artist. I've been working in libraries for about 14 years, and making pottery for about 12.  I've studied at Georgie's in Portland, OR, the Fire Arts Center in Arcata, CA, and Portland Community College's Tabor campus (with Richard Brandt). I currently work out of a studio in North Portland.
In addition to pottery, I love to kayak. If it's a sunny weekend (sometimes even if it's not), chances are you'll find me out on the river. I have a day job doing research, writing and information management for engineers, a job that pays for my pottery addiction and challenges me in other ways.
If I had time for more hobbies I'd like to explore photography, fiber arts, mixed-media sculpture and stand-up-paddling.