Please visit my new studio in St Johns this Saturday, 10-6pm. Many artists and vendors in Cathedral Park Place will have their studios open, and it's a great opportunity to wander around a cool and weird old building. Or, if you prefer beer and live music with your art, come by the Mission theater the following weekend for Crafty Underdog.  Click the posters below to expand.
Cathedral Park Place Open Studios
6635 N. Baltimore
Saturday, December 3, 10am-6pm
Over the bridge, left at the light (Ivanhoe), left at the next light (Baltimore) and almost to the river. My studio is through the front doors, through the next set of doors, down a few steps and to the left.
Crafty Underdog
McMenamins Mission Theatre
Sunday, December 11, 11:00 am – 5:00 pm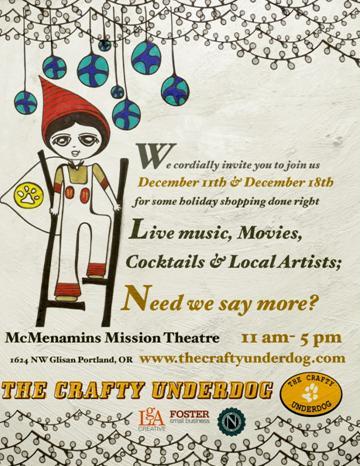 Oko Gallery/Thurman Street Studios
2774 NW Thurman.
I've moved out of Thurman Street Studios, but Lisa is still carrying my work in the gallery. Thurman St will have it's big open studios event the weekend of the 10th-11th. I won't be there, but there are many great artists who will have their studios open.
Pistils Nursery
3811 N. Mississippi Avenue
http://www.pistilsnursery.com
Pistils will be carrying some planted pieces starting this week!